Affection Game Press Release
---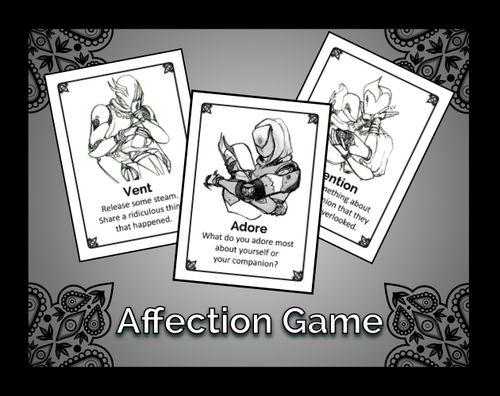 On a quest to become a better communicator, a game about connection was born.
Affection Game is an 18 card deck that asks you and your companions to be honest with your feelings. On the outside, this game seems like a simple icebreaker tool. The inside reveals a set of expressive robots, encouraging you to be open with your emotions. This began from a desire to communicate. Josie (robohaven) worried they wouldn't be able to voice their needs in relationships. So, they created a game to help jumpstart the process.
The deck of robot illustrations and questions asks players to be vulnerable in a playful way. The juxtaposition of robots and feelings, armor with delicate gestures, also speaks to Josie's queerness. The mehendi designs are a nod to their family's culture and a desire to learn more about it as a first-generation Asian American. Added elements of magic and sparkles allow players to let down their guard, and enter a space of play.
No matter your communication confidence, this game has something for you. The cards are separated into three categories based on the symbols on their backs:
One eye: Getting-to-know-you cards, applicable to companions both old and new
Two eyes: Cards you would feel comfortable sharing with friends, to try and get to know them better.
Three eyes: A category for your closest friends and partners.
In our modern, technology-filled world, we are connected. But are we as connected as we seem to be? Let a set of divine machines help you get closer with the people you care about. As stated on the game sites, the rules, and even the rule card – with vulnerability, you'll win.
Let's get affectionate! These decks are available on itch.io and thegamecrafter.com.
Get Affection Game (print & play version)